Want to buy a "sponsored post" on Business Insider?  BI Studios is the department within Business Insiders Marketing Department that sells & manages the site's sponsored advertising.
BI followers the trend of many other large publications that have created a separate division within their marketing/advertising department that sells & manages sponsored content.
How BI Content Studios Does Sponsored Advertising
BI follows a growing trend of having its own division have marketers, designers and reports who work with brands to produced sponsored ads that is separate from its editorial staff.  For examples, Forbes BrandVoice,  The New York Times has T Brands Studio,  the Wall Street Journal Custom Studios, HuffPost Partner Studio, DigiDay Content Studios, Complex Media Content Studio and many other large publications have their own content studio.   Lets take a look at how BI is helping 100's of brands engage in sponsored content.
Category Pages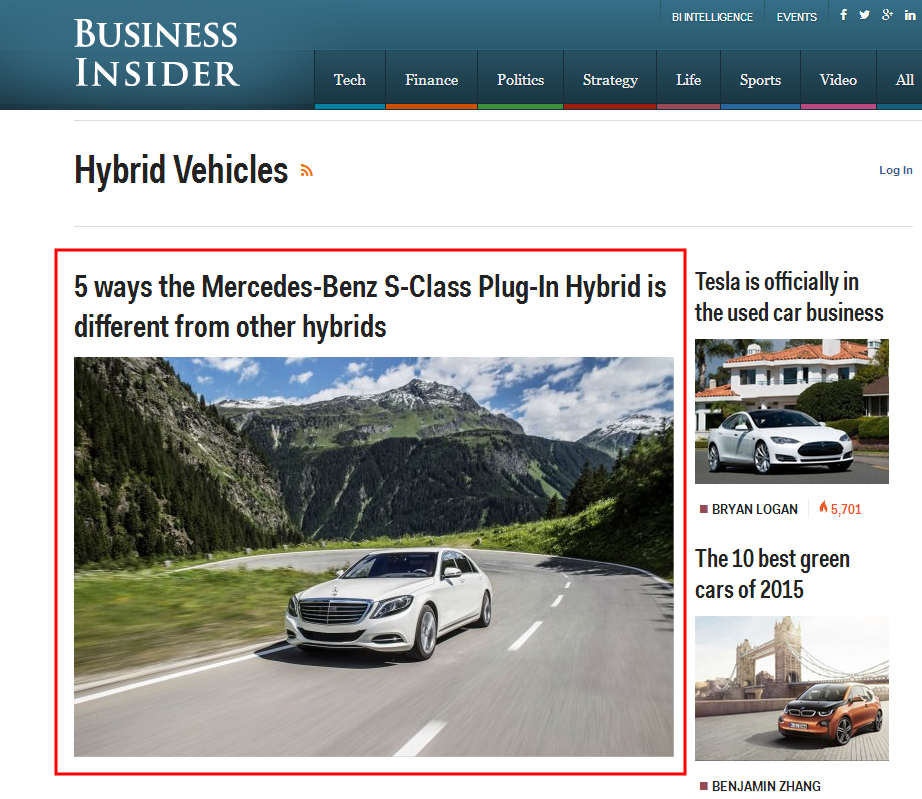 Business Insider does not disclose on the category page that Mercedes is sponsoring this post.  The ad looks just the same as the other non-sponsored editorial articles on the page.
Article – Top of Page (i.e. blog post)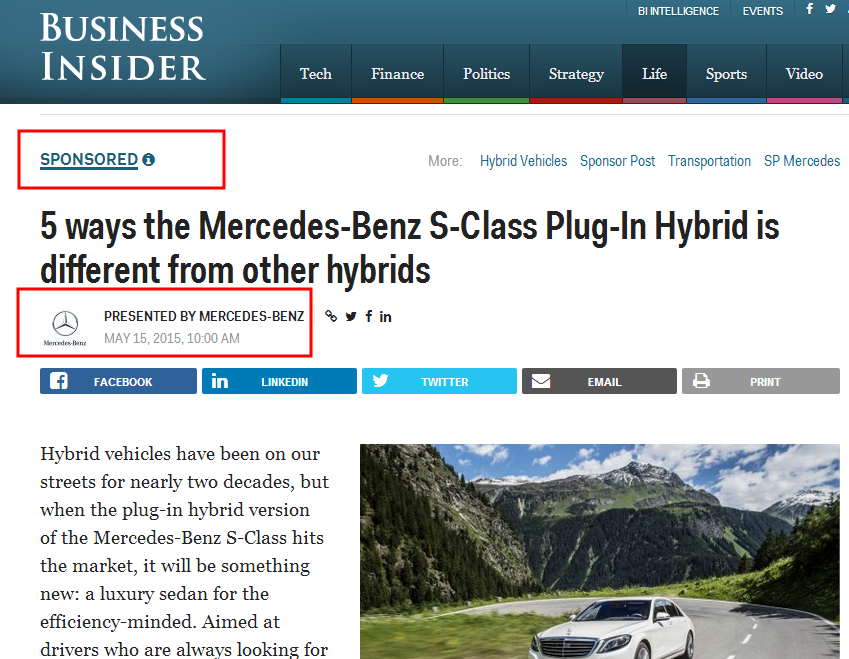 Business Insider discloses that the post is  sponsored by having it "presented by the BRAND" and with a very large SPONSORED text on the top.  Like Forbes, they also have a dynamic roll over option that lets users understand what that means.  In short is says that this content is not written by BI editorial staff but written on behalf and in collaboration with advertisers by BU Studios.  So not the other editorial staff at BI…but other staff are involved.

At the bottom of the sponsored post Business Insider also discloses (1) This post is sponsored by BRAND (2) Find out more about Sponsored Content (2) Follow BI Studios on Twitter and Facebook.  I like this bottom section as it allows users to become familiar with what is going on.  Making the next time they see a sponsored post natural and not a big deal.
Category Page
Business Insider has an actual category page showing their sponsored posts.  Although when I tried to view previous sponsored posts it did not show me.  A better way to look at the 100's of sponsored ads BI Content Studios has published you can view them in Google here.
More Information on Sponsored Posts
Want more information on BI Sponsored Posts?   No problem, BI gladly gives you more information
Dedicated Twitter & Facebook Page
A growing trend I am seeing is also having dedicated social media channels for content studios.  BI makes it clear on their social media pages that "The news and editorial staffs of Business Insider have no role in this content's creation."  Instead "BI Studios collaborates with advertisers to produce engaging, high-quality stories that align with their brand marketing."    Bi Facebook & BI Twitter page publish articles to sponsored posts from there; no disclosure on Twitter and Facebook.