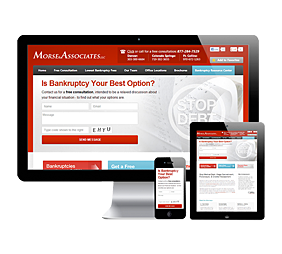 WebBizSEO Lawyer Marketing SEO + Web Design + Social
See How We Achieved 118% More Conversions
See How A Custom Law Firm Website & Ranking #1 in Google Can Increase Your Leads!
Want your law firm website to Rank #1 in Google? Do you need a website that is not just a template, but actually generates consistent leads? WebBizIdeas builds & markets attorney websites. Our designs & internet marketing services typically double your online leads. Best of all, if you are a WebBizIdeas marketing client, web design is free! See our recent work below:
Schatt & Hesser P.A.
Schatt & Hesser P.A. came to WebBizIdeas wanting a new site that would rank high in local search engines.
SEO Friendly Architecture
Search Engine, Mobile, and Cross Browser Friendly
Fully Managed by WebBizIdeas
Andrea Worden
Andrea L. Worden, an attorney in Norman, OK, enlisted WebBizIdeas to help optimize her online presence and redesign her website.
Website Redesign
Keyword Research & Optimization
KML & Geo Sitemap For Google Local
Morse Bankruptcy
Morse Bankruptcy achieved 118% more conversions in just 28 days.
Cross-Browser Compatible
Mobile and Ipad Friendly
Effective Call-To-Actions
Easy To Find and Use Lead Forms
Westchester Mat Law
WestchesterMatLaw.com generates quality lawyer leads in the White Plains, NY area by:
Ranking for over 250 keywords
Pulling an average of 150 visitors a month
Converting site visitors into leads (potential patients)
What's Included?
Custom Website Design and Maintenance
As part of your lawyer online marketing strategy, WebBizIdeas.com will create and customize a compelling website for your firm. By crafting an original lawyer website, we can ensure your firm stands out from the crowd. You'll see an increase in phone calls and website contacts, giving you the opportunity to reach more people in your area and establish new client relationships.
Our graphic designers work closely with you, learning what makes your practice areas unique in order to create a custom site that truly reflects your law firm's many advantages. Along the way, we'll review mockups and discuss layouts with you in order to develop a website that properly highlights all of your services and captures your firm's personality. As part of your attorney SEO plan, we'll update your site with any new information or services you offer, keeping your site up-to-date and fresh, letting you concentrate on your clients.
Social Media Creation, Monitoring, and Content
Facebook, Twitter and other social media have become popular and innovative ways to keep your law firm front and center with potential and current clients. We'll routinely update your website with new content and monitor comments, answering general questions and passing along more specific questions to you or your staff. Don't have a Facebook or Twitter account? We'll create them, optimizing your lawyer social media marketing opportunities and tying everything together in one exceptional attorney internet marketing package that will propel your law firm toward greater visibility and increased profits. Learn more about our fully managed solutions by contacting sales .
How WebBizIdeas Handles Law Firm SEO
WebBizIdeas.com is a renowned Minnesota SEO firm with numerous clients who rely on us to provide effective, innovative search engine optimization strategies that increase their bottom line. We rely on experienced SEO employees who collaborate closely with our graphic designers and coders. Our team of SEO attorney specialists will only work with ONE LAW FIRM in each area . That means we will only promote your company in your target market to ensure you are on the first page for every keyword.

How WebBizIdeas Beats Your Competition
The SEO lawyer specialist team at WebBizIdeas.com always analyzes the websites of your competitors, examining their SEO methods, choice of keywords, and overall online lawyer marketing strategy to determine what needs to be done to improve your site and beat your competitors. It's essential to cover all the bases, addressing both off-page and on-page practices in order to surpass the competition at every turn. For example, if you competition has 2,000 links and 75 pages indexed by Google. We have a good idea of what we need to do to surpass them and continually stay ahead of them.

On-Page Optimization
On-Page SEO ensures that your website is not only attractive, but effective. We'll link various pages within your website to strategic keywords and make sure those pages rank higher in search engines. Although search engines use a variety of algorithms to determine website rankings, the WebBizIdeas.com process focuses on the guidelines used by Google because it is used worldwide by more people than any other search engine. We will do in-depth analysis of keyword competitiveness and compare your competitors' methods in order to improve the prominence of your keywords utilizing a variety of website editing strategies, including:
Adjusting various test, including bold and italicized
Add or refining H1-H3 tags
Optimizing tool tip text and Alt tags
Optimizing both title tags and meta descriptions
Improving the use and placement of keywords on your homepage
Creating xml and html site maps and submitting them to Google
Ensuring World Wide Web Consortium validation
Optimizing your website's current links

Off-Page Optimization
Optimizing your website off-page means creating successful internet marketing for lawyers that isn't on your actual website. The focus is maximizing the number of inbound links leading to your website by championing your business with relevant internet sources and related websites. Our off-page optimization methods include:
Submitting your website to popular and established web directories
Writing engaging content and submitting it to article publishing sites
Increasing one-way, inbound links from appropriate websites
Bookmarking for lawyer social media marketing
Crafting relevant press releases and submitting them to various PR outlets
Distributing lawyer video marketing

Tracking Progress
WebBizIdeas.com will track your search engine rankings daily. We send you bi-weekly ranking reports, but we do monitor your rankings every day in order to ensure any changes in search engine algorithms will be noticed as soon as possible. By monitoring any changes in rank daily, we will notice any extreme or unexpected fluctuations in the rankings almost immediately. We are able to quickly modify your existing attorney SEO strategy in order to conform to the latest algorithms, ensuring the best possible SEO results for your website everyday.