Most bloggers & influencers are aware of the FTC's .com disclosure guidelines but are unsure on the best way to disclose on a social media account and their blog.  To help you disclose that you received a free product or were paid to promote a product with in a blog post, photo or video please review the examples.  Although Twitter is used as the example social media channel, this would also apply to Facebook, Instagram, YouTube, Pinterest, Vine, and other social channels.
Social Disclosure: Twitter, Facebook, Instagram, YouTube, Pinterest, Snapchat and Vine
AD

SPONSORED

GOTITFREE

*Note:  Also follow guidelines of each social network you post on.
Website Disclosure: Blog & Media Outlet
Home & Category Pages
The FTC wants disclosures to prominent and in understandable language before and after you click to read a sponsored post.  The best way to accomplish this is to FIRST set the expectation before a user clicks on the ad.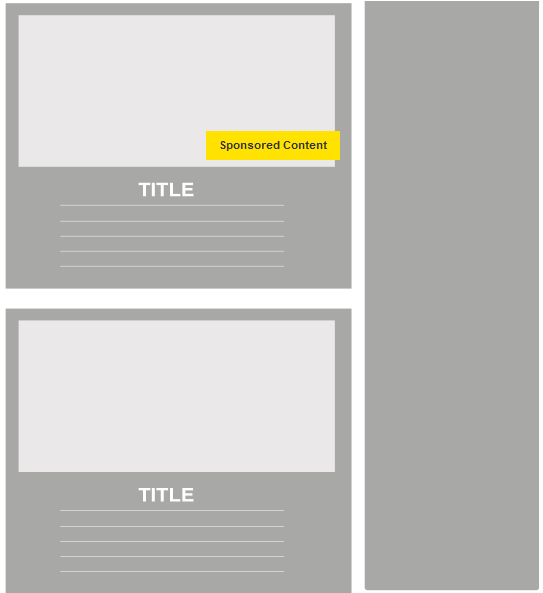 Blog Post
When a blogger obtains a product and reviews it for free they must disclose that fact.  Same if they are paid to promote the product on their blog.  The best way to disclose this is SECOND at the top of the blog post.  Now if the user lands on this page or finds it from your home page, they are clearly informed the post is a sponsored advertisement. And to clear up any doubt THIRD a brief sentence at the bottom of post explaining either (a) This post is sponsored by BRAND (b) Find out more information about the sponsored content you sell.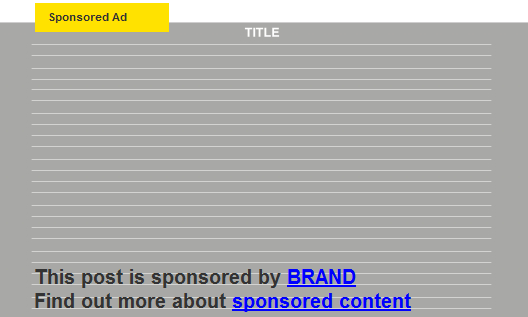 Examples of Disclosure Options To Use on Your Blog






Third Party Online Review Sites

If you received a free product in exchange for your review, please clearly and conspicuously disclose that that you received the product free of charge.  Any reviewer should abide by Amazon Review Creation Policy for reviews on Amazon.
Do I disclose the influencer marketplace?
What about if you worked with a company like Tomoson, IZEA, TapInfluence or SVERVE to receive your free product?  Do you need to disclose that you received it from them?  Please check our research on what those companies require, but lets talk about Tomoson here (full disclosure:  WebBizIdeas owns Tomoson).
Tomoson does not send you any products; the brands do.  Tomoson does not decide which influencers get approved and sent products; the brands do.  So you do not need to disclose that you received a product from Tomoson when publishing a review or promoting a product.
Link Policy
In order to prevent paid links from influencing search results and negatively impacting users, we urge webmasters to use rel="nofollow" when linking to brands' websites.  Although most reviewers are not paid anything to write a review it is best practice to follow Google's guidelines and use rel="nofollow" links even if you received the product; better to be on the safe side for you and the brand.