Publishers are adopting this crazy marketing phenomenon that's occurring across all industries. You've probably heard of it. It's something called "sponsored content" and everybody is doing it. From old internet stalwarts like Yahoo, to young and disruptive publications like Buzzfeed, to niche websites like DigiDay, this trend poses two questions: Why are these publishers adopting sponsored content on their website?  How are they doing it?
Key Findings
Content Studio:  Create a department called YOURBAND CONTENT STUDIOS that handles sponsored ads
Label as Sponsored – Categories:  Before you click to the page, the post should be indicate "Sponsored"
Label as Sponsored – Top:  The top of the page should indicate the post is "Sponsored"
Label as Sponsored – Bottom:  The bottom should link to more information
Why are these publishers adopting sponsored content on their websites?
Let's start with the first question: The answer is quite straightforward – publishers do it because it works. When you do it well, click-through rates are higher than the click through rates you get with standard display advertising. This means publishers can offer their advertisers a better service.  Our recent influencer marketing survey shows that brands want sponsored advertising opportunities.
Brands Doing Sponsored Content
Let's look at some real world examples of sponsored content.  This is from the news and entertainment website Buzzfeed.
1.  BuzzFeed
The advertiser is BMW who was promoting the launch of a new car in February of this year. But the content has nothing to do with the car, and it doesn't have anything to do with BMW. In fact, it has nothing to do with cars at all. Instead it is content that fits with the other types of stories that readers of Buzzfeed see on the site. And it includes a subtle branding message.
2.  DigiDay
Here is another example, this time from the niche website DigiDay. It publishes high quality articles about the media and marketing industries, and is read by professionals working in those fields. You can see by the headline that DigiDay tailored this sponsored content example to those readers directly.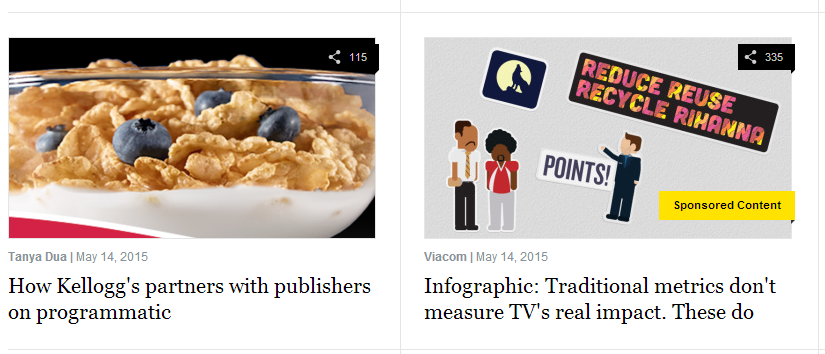 3.  The New York Times
Melanie Deciel, an editor at The New York Times wrote a piece called "Women Inmates:  Why the Male Model Doesn't Work."  This post was commissioned by Netflix.  Yes, Netflix paid the Times' for a Sponsored Post, Guest Post, Sponsored Content, Advertorial or whatever you want to call it.  Is this journalism?  Love it or hate it sponsored content is here to stay.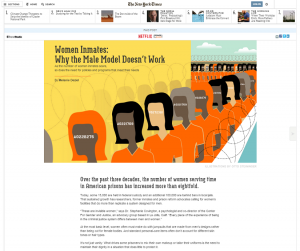 4.  The Washington Post
DigiDay reported that The Washington Post has tried sponsored content.  Is this any surprise?  Why is there even a conversation on whether sponsored content should be part of journalism?  Newspapers and magazines have been doing it for years.  They always make it clear it is sponsored advertising.  What is the big deal online if you disclose the type of advertising in the same way?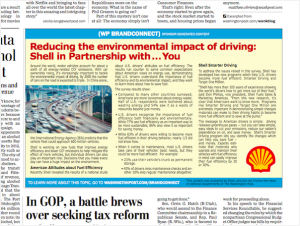 5.  Forbes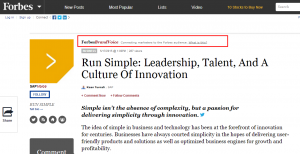 Forbes Brand Voice is a corporate way of saying "Sponsored Post."  So take a lesson from the big boys and pretty up your sponsored content message.  It doesn't have to say "Don't read this post because I was paid to do this and everything in the post comes from the business" – because that is how most bloggers disclosures sound.
6.  Quartz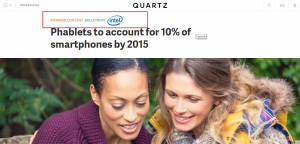 Quartz follows the simple approach and lists on the top of the page "Sponsored Content" Bulletin by BRAND (see example).  At the bottom of the post they also add "This article was produced by BRAND and not by the Quartz editorial staff."  If you look under Quartz Sponsor Content Guidelines you will find that they allow advertisers to create the content or Quartz's marketing team.  It also will "clearly differentiated from its editorial content."  Bloggers, do you think the big header that says "Sponsored Content" Does that job?
7.  BusinessInsider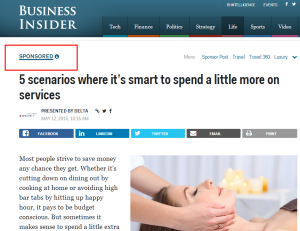 BusinessInsider (BI) is not shy to talk about how they do sponsored posts.   They are clear it is a paid advertisment created in behalf of their BI Studios, or in other words their fancy way of saying their content writers who sell sponsored posts.  If you search Google you will see BI sells a lot of these ads.  Either brands are suckers or they have found sponsored post to work much better than traditional advertising.

BI does what Forbes does and has a dynamic roll over to explain more about the post on the top of the page.  At the bottom of the page they again explain this is a sponsored post by BRAND and link to where users can find out more information about sponsored content and BI studios.  I feel Forbes & BI are great sponsored models to copy.
Does Sponsored Content Work?
The only argument with sponsored content is a five letter word that starts with the letter t: Trust. It's something that should be taken super seriously. Will readers lose trust because they see sponsored content displayed in a similar way to editorial content? What are publishers reporting?  The most credible study to date is The Paid Content Study By The New York Times.
Paid Posts, can generate significant audience engagement, on par with some editorial content on NYTimes.com and other publisher sites……some high-performing T Brand Studio posts received enough traffic to generate as much engagement as some editorial content on NYTimes.com.
Wow!!! They are reporting that there is not that much difference in sponsored vs. normal content.   What does that mean?  Readers don't care as long as the content is good.  Who cares if #batkid was a PR stunt, everyone loved it.  Who cares if Big Papi got paid by Samsung to take a selfie of the President, we all loved it.
I asked DigiDay to give me their thoughts on Sponsored Content since they work with many brands; this is what they said:
Focusing on the product itself and being too promotional can definitely lose your audience. Talking about topics pertaining to your product, not just the product itself, you become a trusted source and establish yourself as an authoritative figure in that area.
How You Can Do Sponsored Content
As stated above it the answer comes down to how you execute a sponsored content strategy. There are three main outcomes with sponsored content:
Good – content that is genuinely helpful, interesting or useful to the reader, and doesn't try to sell or promote anything in an overt or blatant way
Indifferent – content that does not have a hard sell, but its objective is primarily promotional
Bad – something that has a hard sales message at its core (yikes! stay away.)
Here are some practical examples of headlines to make this a bit more clear:
Good sponsored content – "Top Fitness Apps to Use with the Apple Watch"
Indifferent sponsored content – "Apple Watch Launch hailed a success"
Bad sponsored content – "Five reasons You Must Buy an Apple Watch today"
When you produce good quality sponsored content, then you can turn any trust questions on its head. Your readers will not think you have sold out and are trying to pass of blatant and boring advertising as a story. Instead you can build up your reputation even further and cement your authority on the subject in question.
Here is an easy way to determine if sponsored content is being done in the right way.  Strip away the logo and any sentences that refer to the advertiser, or the advertiser's products or services. If the remaining text, images and videos would make it on to your website as a piece of editorial, then it is a good example of sponsored content. In other words, good sponsored content relates to the readers of your website. It puts the focus on the topics that interest them – not the advertisers.
Good sponsored content must be created for the readers of your publication. If you create sponsored content in this way, you'll build trust, please your readers, and bring in opportunities that get more success for your clients.